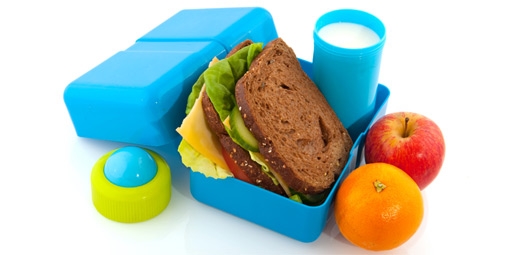 Dear Parents / Carers,
If you could please take note of the following information regarding lunch boxes.
Please ensure your child's lunch box is clearly named, contains a drink, a spoon if needed and as the lunch boxes are not stored in a fridge please provide a frozen ice pack. We do supply water throughout the day and at lunchtime but you are welcome to provide your own drink if you prefer. Sports or screw top bottles are better than cartons if your child may not drink it all.
Please do not put any nuts, or use peanut butter in your child's lunch box as even the smell can affect children with nut allergies.
If your child has grapes, small tomatoes or anything with a skin, please ensure they are cut in half lengthways as children are less likely to choke if cut in this way. Some larger items should be quartered. The RoSPA have a slogan "if in doubt, quarter it".
We do our best to encourage children to eat their lunch but have found in the past that some children do have quite a lot in their lunchbox. The children have snack from 10.00am and lunch at 12 noon. As a rough guide most children can manage a sandwich or alternative, a piece of fruit and a biscuit type product/yoghurt. Obviously you know your child best and this is just a suggestion. We have a leaflet which we can copy for you regarding portion control which you may find useful. Please speak to your child's key person. We encourage children to eat savoury before other food but will not enforce this so please bear this in mind when preparing your child's lunch box.
We promote healthy eating at our setting so please do not put chocolate bars, sweets or other confectionery in your child's lunch box.
All uneaten food and rubbish will be placed in a clearl food bag inside the lunchbox. This is so that you can see what your child has eaten and because of the recycling procedures we have in the area.
If you would like any more information about this please speak to a member of staff.
Thank you